Dermatology Nursing
"We don't save lives – we change lives"
Carnival Spirit | Departing Moreton Island, Sydney
April 29th – May 3rd 2018
Download PDF
The temptation of Tangalooma is calling on this short CPD cruise
Outline
Dermatology Nursing
"We don't save lives – we change lives"
Dermatology is a huge field and, like any other speciality requires clinicians to hold the specific knowledge to provide the correct diagnosis and treatment options for the patient. This Conference will explore the latest best practice clinical guidelines on the key concepts of Dermatology Nursing. The content is as relevant to the Nurse working in a Dermatology practice as it is to the Nurse wanting to find out more about Dermatology to use in their general practice and patient education.
Learning Outcomes:
In this conference you will:
Explore clinical aspects of dermatological conditions and the signs and symptoms commonly associated
Review the medications used in the dermatological conditions discussed
Investigate the most common dermatological conditions that may present to your service
Update your knowledge on the current best practice clinical guidelines?
The program content is provided by expert Nurse Educators with extensive clinical and education experience. The education content provided in this program meets the same exacting standards as anything offered in an Australian land-based program. What we have done is marry best practice content with a cruise ship holiday to provide you with a Travel CPD experience, where the conference content is as important your need for rest and relaxation. We have taken a holistic approach to Nursing continuing professional development to ensure you get the most out of the education experience.
To view the 1-page Education Program please click here.
To view the full event program please click here.
---
Exclusive Online Library:
We have created an exclusive online Conference library website for our attendees to access prior to the commencement of the Conference. The online library is provided to you so that you can create your own Conference experience and access information and sessions of interest prior to the commencement of the Conference program.
Library Content Includes:
Webinars and their corresponding note pages
Self-directed learning activities and
Other supporting documents for the face to face presentations
This page will be available to you as an attendee from 4 weeks before we set sail and for 4 weeks post the Conference, should you want to refresh your knowledge.
---
Presenter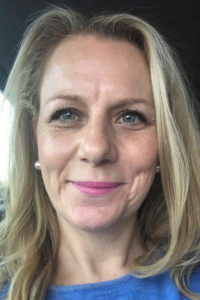 Sharon Temby
Sharon is the past President of the Dermatology Nurses Association and brings her specialist dermatology knowledge, skills, and passion as the key speaker at this Dermatology Nursing conference. As a Registered Nurse, Sharon is highly respected in the dermatology field, and as a Nurse Educator, she has a reputation as an exciting and innovative presenter. Equally, as a Nursing colleague, Sharon has an expert understanding of the issues faced by Dermatology Nurses in everyday practice and as an advocate works tirelessly to advance the field of dermatology Nursing as well as promoting patient safety. Sharon is also to become a published Author and is excited to share her knowledge with the attendees of this Dermatology Nursing conference.
---
The Venue:
Cruising aboard Carnival Spirit will elevate this Nursing conference experience, to that unforgettable trip you will be longing to relive. You'll be on a ship that's nearly the length of three footy fields and 12 decks tall of things to do, see, taste and try.
The Carnival Spirit has grown to become one of Australians' favourite cruise ships. Like a true Aussie, it's laid-back, fun and friendly – and that describes the crew, your fellow passengers and the atmosphere onboard. There are so many fabulous choices on offer when it comes to onboard activities, from gorgeous Stage Show, stand-up comics, karaoke in the piano bar to relaxing by the pool or getting pampered at the amazing day spa. If you are into fitness there is a fully equipped gym and a number of fitness tutorials provided by the expert trainers onboard.
Because a cruise is such a fabulous holiday experience, your family and friends can join you on your Travel CPD adventure. Whilst you are attending lectures there are heaps of activities to keep them busy including an exceptional kid's club program. Just talk to us the Team at Travel Direct and we can organise all of your and your travelling companion's travel arrangements.
---
Disclaimer:
Sessions are correct at time of publication. Sessions are subject to change without notice due to circumstances beyond the control of the organisers. NFN and EAS reserves the right to alter charges, cancel, postpone, change or withdraw the product or service at any time. 
Itinerary
Day and Location
Events
Day 1: Sun 29th April
Departure: Sydney
Conference Registration
Day 2: Mon 30th April
At Sea
Conference Education Session:

Day to Day Skin Care
What's the nitty gritty of Dermatology
Skin Assessment, diagnostics and dermatological treatment options
The Use of Botox and Fillers
Eczema: "It's all about the itch/scratch cycle"
Acne: "Scars in more ways than one"

Day 3: Tues 1st May
Tangalooma
How Fabulous! Today we are on shore in beautiful Tangalooma, know to some are the Jewel of Moreton Bay. Protected and treasured, this is nature's theme park where amazing natural encounters are just part of the everyday experience. Enjoy nature at its best!
Day 4: Wed 2nd May
At Sea
Conference Education Session:

Psoriasis: much more than itchy, flaky skin
Rosacea
What Skin Cancer is That?
The Use of Lasers
"We have become sun scared rather than UV smart"
"A bag of Dermatological Bits" – the common conditions that patients seek treatment for"

On our last evening enjoy complimentary drinks and canapes during a networking and discussion session.

Day 5: Thurs 3rd May
Sydney
It is time to say goodbye and disembark
To view the 1-page Conference Education Program please click here.
Please Note: Due to travel weight restrictions and an attempt to help save the planet, paper-based handouts will not be provided on board. We encourage you to download any documents from the online library to your device of choice, that you want to refer to during the conference program. Writing paper will be provided in your Conference pack.
For information relating to the education component of the event please contact the Nurses for Nurses Network on 07 4151 3884 or email info@nursesfornurses.com.au.
For information relating to the cruise, accomodation, bookings or payment plans please complete the booking enquiry form below.
Itinerary Disclosure:
Cruise Itinerary, Seminar topics and Seminar Education program are subject to change without notice.
Presenter Disclosure:
Education at Sea and the Nurses for Nurses Network makes every effort to ensure the advertised presenters deliver the program. However in the unlikely event a presenter is unavailable the Nurses for Nurses network reserves the right to use a suitably qualified substitute presenter.
Optional Tours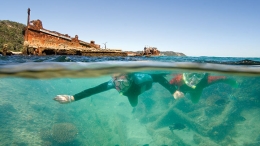 No exclusive shore tours are offered for this event. However there are things to see and do at while we visit the Tangalooma. Please feel free to ask us on board about what to expect and take when going on shore. Please remember to take sun screen and wear sun protective clothing.
Pricing
Cabin Selection
Twin Share per person
Inside Cabin
from $669
Ocean View Cabin
from $849
Balcony Cabin
from $999
Conference Attendance Fee
$490 per attendee
Nurses for Nurses
Membership details
Please click here
For further information regarding cabin selections, pricing or travel arrangements for the event please contact Education at Sea c/o Travel Direct Australia by completing the booking enquiry form.
Conference Registration includes conference attendance and exclusive NFN activities whilst on board. Cabin prices include selected cabin accomodation, meals, entertainment, gratuities, fees and taxes. Gratuities, fees and taxes are subject to change without notice. A deposit of $200pp is due at the time of booking with the final balance payable on or before 7th February 2018.
The Nurses for Nurses Network and Travel Direct Australia strongly recommends customers take out travel insurance at the time of registration for an event, to cover any unforeseen circumstances that may prevent them attending and thus incur any financial loss.
Prices are subject to change & availability and include selected cabin accommodation, meals, entertainment, gratuities, fees and taxes. Gratuities, fees and taxes are subject to change without notice. Celebrity Cruise Lines has reserved the right to re-cost pricing in the event of significant currency fluctuations. A non refundable deposit of $600 per person is due at time of booking with the final balance payable by 4th March 2018. Air fares and Travel Insurance are available at an extra cost.
Cancellation Penalties and Disclosure:
Cancellation policies vary by cruise line, itinerary and length of cruise. When reserving your stateroom, please review the policy applicable to this cruise with our staff. All deposits and seminar registration fee's are non refundable. CPD Cruises Pty Ltd trading as Education at Sea and the Nurses for Nurses Network will not be responsible for any financial loss due to cancellation from unforeseen circumstances. We strongly recommend you take out travel insurance at time of booking your cruise conference.
Register your interest in this CPD cruise today
Please complete the form in this section to express your interest. We will revert within 48 hours with pricing and other details after confirming cabin availability with our cruise line partners.