A Holistic Approach to Wound Management
Port Douglas
Queensland
30 January – 4 February 2022
Download the brochure
This conference will explore a holistic approach to wound management taking into consideration the patient, their health and those factors that may impact on wound healing outcomes.
Outline
Wound management can be challenging for both the individual living with a wound and also for the clinician. Too often this becomes about the "hole in the patient" not the "whole patient". Wounds can have a negative impact on the individual affecting their quality of life.
This conference will explore a holistic approach to wound management taking into consideration the patient, their health and those factors that may impact on wound healing outcomes.
You Will Learn:
What person centred care means in a wound management environment
How to recognise a chronic wound
What wound healing looks like in the chronic wound environment
The scope of practice framework
What you can delegate in regards to the wound management plan and what needs to remain a registered nurses responsibility
The complexities of the ageing skin
What interventions to put in place with the ageing skin to prevent further complications
The definition of skin integrity and how that underpins the wound assessment process
From a variety of case studies how to put theory into practice
The key issues involved with a bariatric patient and skin integrity and wound management
Specific strategies to employ with skin hygiene and find out what works and what should be avoided
The issues that should be understood when employing wound management techniques in the diabetic client
The issues that surround skin integrity and injection technique when working with a diabetic client
How palliative wound care should be provided and the key issues regarding the outcome that is achievable
About pain management strategies that should be employed in wound management plans
That medication is not always required as a pain strategy in wound care management
What should be included in a wound management plan
How a thorough assessment process can lead to using the correct wound care product
That of the thousands of wound care products on the market you only need a few to get great results
That teamwork is required to get the best result for the patient in the quickest and most cost effective manner
---
Learning Outcomes:
In this conference you will:
Gain an understanding of the patient experience of wound management
Explore the concept of patient centred care in the wound management environment
Review various patient groups that will require a different approach to wound care management
Investigate the strategies that you can employ to meet the clients needs and maintain best practice options
---
Presenters: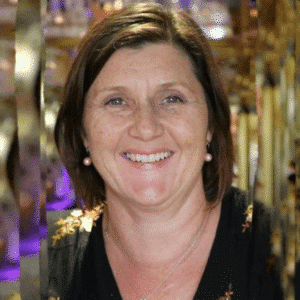 Louise Webber
Masters Nursing Science (Nurse Practitioner), BA (Hons), RN
Louise has over 20 years' experience in wound management established her own Private Practice (Wound Therapies) following completion of her Nurse Practitioner in 2014. She has worked across several public hospitals and Community Nurse Settings both in Australia and overseas.
She works collaboratively with several Aged Care Providers, private hospitals and Community Nursing Services and runs 2 specialist wound clinics for a GP Practice and Just Skin (Maroochydore) that specialise in Superficial Radiation Therapy.
Louise was previously an Honorary Clinical Fellow for Australian Catholic University having participated in several research projects leading to publication. She is passionate about wound care and striving for best practice and has participated in several international working groups for Pressure Injuries and Leg ulcers. She is a mum of two teenagers, loves the Sunny coast lifestyle and attempting to play golf!
Jule Aitken
MSc (Nurse Practitioner), RN, CDE
Jules Aitken is an Endorsed Nurse Practitioner specialising in Diabetes, Chronic Disease and Weight Management. She attained her Masters of Nursing (Nurse Practitioner) at Queensland University of Technology (QUT).
Jules is also a registered Credentialed Diabetes Educator (CDE) registered with the Australian Diabetes Educators Association (ADEA) gaining her Certificate of Diabetes Management at the University of Technology Sydney. She has worked within the diabetes, chronic disease
and weight loss management field for over 15 years.
Working both independently and within specialist clinics, Jules coordinates the care of clients with complex diabetes, chronic conditions and weight loss. She has participated in research projects involving chronic disease management, weight loss and diabetes and has presented at nursing, allied health, medical and community events at local, State and National level.
Jules is a mentor for diabetes educators with the Australian Diabetes Educators Association and also provides education and mentorship for student nurses, EENs, RNs and other health professionals within private organisations. Jules has worked with local, State and Federal government organizations most notably a Primary Care Network as a member of a working committee establishing health pathways for aged care, diabetes and chronic pain and also as a member of their quality improvement committee.
---
The Venue: Oaks Resort Port Douglas
A lush tropical setting awaits your arrival at Oaks Port Douglas Resort, ideally located just moments away from the iconic Four Mile Beach. It also has close proximity to the Great Barrier Reef and Daintree Rainforest, making the resort the first choice of holiday-makers staying in Port Douglas.
---
Disclaimer:
Sessions are correct at time of publication. Sessions are subject to change without notice due to circumstances beyond the control of the organisers. NFN and EAS reserves the right to alter charges, cancel, postpone, change or withdraw the product or service at any time.
Itinerary
Day and Location
Events

DAY 1: 30th January 2022 – Port Douglas

Settle into your accommodation and relax.

Evening: Enjoy this opportunity to mingle with the other attendees at the complimentary drinks and Conference Registration function.

DAY 2: 31st January 2022 – CONFERENCE DAY

Today's Session Include:

Patients experience of living with a chronic wound.
Person Centred wound care – what does this mean?
Wound healing – what is a chronic wound?
Scope of Practice, documentation for wound management

DAY 3: 1st February 2022 – CONFERENCE DAY

Morning Session Includes:

Ageing and skin integrity
Skin integrity – assessment and management
Case Study Discussion
The bariatric patient – issues for skin integrity and wound healing

Afternoon – Take the opportunity to relax or join one of the two great tours we have to offer. 

Optional Tours: Half Day

River Drift Snorkelling Tour – It's swimming, snorkelling, floating and a rainforest walk, all combined into the best rainforest experience in the region.
Exclusive Low Islands and Great Barrier Reef Snorkelling/Sunset Tour

Additional information can be found on the Optional Tours section of this page.

DAY 4: 2nd February 2022 –  LET'S EXPLORE

Take today to explore this beautiful destination at your leisure.

Optional Tour – Full Day "Daintree Rainforest Tour" including lunch at High Falls Restaurant, and a visit to Shannonvale Winery.

Evening: Optional dinner and networking session this evening.

DAY 5: 3rd February 2022 CONFERENCE DAY

Today's Session Include:

A Day Celebrating the Art and Skill of Communication – The Assertive Nurse

Wound & skin Hygiene – dos and don'ts
Diabetes & Wounds including injection techniques and skin integrity
Palliative Wound Management
Pain management in wound care

Optional Event – A fabulous fundraising event for the Global Nursing and Midwives Rotary Club

DAY 6: 4th February 2022 CONFERENCE DAY

Today's Session Include:

Wound care planning
Wound product selection
Teamwork including working with other disciplinesSelf-directed conference workbook
Conference Conclusion and farewell

Evening: Take this opportunity to enjoy a complimentary Drinks and Canapes function as the conference draws to a close and we say farewell to new friends and colleagues – safe travels home.

 
 
Please click here for the itinerary PDF
For information relating to room pricing, bookings and travel requirements such as flights and travel insurance please complete the booking enquiry box or email enquiries@educationatsea.com.au
Itinerary Disclosure:
Cruise Itinerary, Seminar topics and Seminar Education program are subject to change without notice.
Presenter Disclosure:
Education at Sea and the Nurses for Nurses Network makes every effort to ensure the advertised presenters deliver the program. However in the unlikely event a presenter is unavailable the Nurses for Nurses network reserves the right to use a suitably qualified substitute presenter.
Optional Tours
Exclusive Catamaran Sunset Tour
DATE: 1st February 2022 – 5pm to 6.30pm (Strictly limited spaces)
Enjoy the thrill of pure sailing!  A "must do" when visiting Port Douglas is to relax with a Sunset Sail on board a first class sailing catamaran.
Soak up the peace and tranquillity of a tropical sunset over the Coral Sea as you sail along the coast off Port Douglas. Take in the ambient music, relaxed and friendly atmosphere and the spectacular mountain views while enjoying unlimited drinks and delicious canapés. 
COST: $110 per person
Inclusions:
Transfers to and from hotel

Exclusive private charter for Education at Sea and Nurses for Nurses Network delegates and guests

All beverages included (Choice of beer, wine or sparkling wine)

A delicious selection of canapés

Spectacular sunset sail over the coral sea, with views of the Daintree Mountains

The experience of sailing on board a luxury sailing catamaran
Important notes:
This tour includes travelling on a boat, we recommend wearing appropriate clothing and bring a beach towel, swimwear, hat, sunglasses and sun protection.
---
River Drift Snorkelling Tour
DATE: 1st February 2022 – Half Day Tour – 1.30pm to 5pm (Strictly limited spaces)
It's swimming, snorkelling, floating and a rainforest walk, the perfect tour through nature. Step into the cool, crystal-clear water and drift with the current as you explore life under the water's surface.
A chance to see some of the most beautiful animals that live in the forest's rivers and jungle, from fish to turtles, water dragons to colourful birds. Who knows what else you might see? Make sure to keep an eye out for the ever-elusive platypus.
Inclusions:
River sled to float on (small children can share with an adult)

Wetsuit, boots and snorkel mask

Experienced guide

Light snacks after the tour
COST: $120 per person
Important notes:
There are no change rooms at the river, so please wear your swimmers underneath your clothes. Leave all valuables behind, including any loose fitting jewellery and rings that can be removed. Make sure to bring a towel and comfortable footwear.
Not suitable:
if you have limited mobility or injuries, e.g. difficulty walking, injured or limited movement of knees, ankle, shoulder etc.

for anyone who is pregnant.

Max recommended weight limit is 125kg/274lb
---
Daintree Rainforest Tour
DATE: 2nd  February 2022 – Full Day – 9am to 3pm
The tour group will depart Port Douglas at 9am and head to the Daintree Forest, where they will experience an exciting and informational walk at Mossman Gorge. With the option to swim at the gorge's stunning main swimming area, what better way to cool down in the tropical jungle weather during the tour.
After cooling down in the water and exploring the Mossman Gorge, guests will next be following a full-loop trail walk, exploring the Daintree National Park at an easy pace, this interpretive 1.5hr walk, will leave you with a deeper understanding of this breath-taking rainforest.
From 12pm-1pm lunch will be served at the High Falls Restaurant, located in Whyanbeel Valley. Offering a delicious lunch, sitting next to a tranquil river, High Falls is a restaurant nestled amongst such beautiful surroundings which guests are sure to love.
After a delicious lunch, guests will experience a traditional Kuku Yalanji smoking ceremony at the Mossman Gorge; where you'll be cleansed of any bad spirits and be painted with traditional rainforest body paint.
With one more activity on the list for the day before heading back, guests will really enjoy their trip to the Shannonvale Tropical Fruit Winery. This is a chance to taste any of the single fruit wines available at the winery and see if you will be converted to a fruit-wine drinker, a perfect drink to celebrate the succulent tastes of tropical fruits grown in a pristine North Queensland location.
Inclusions:
Return transfers from The Oaks Port Douglas Resort

Traditional Welcome Ceremony

Guided rainforest walk

BPA-Free water bottle for the walk

Lunch at High Falls Restaurant
Tropical fruit wine tasting at Shannonvale Winery
COST: $260 per person
Important notes:
This tour will include walking on uneven surfaces and trails. We recommend wearing appropriate clothing, hat, sunglasses and sun protection. There are no change rooms at the river, so please wear your swimmers underneath your clothes. Make sure to bring a towel and comfortable footwear.
Pricing
| Room Selection | Twin Share per person |
| --- | --- |
| Spa Room | SOLD OUT |
| Single occupancy | Prices start from $858 |
| Double/Twin sharing room | Prices start from $429 per person |
| One or Two bedroom apartment | Prices start from $570 per person |
| Conference Attendance Fee | $1090 |

What's included in your Conference Registration?
An extensive Conference program based on current best practice
Education content that meets the same exacting standards as anything offered in an Australian land-based program
Conference Presenters that are recognised experts in their field and are excited to be able to share their skill, knowledge, and passion with Conference Attendees
An online Conference library filled to the brim with educational content that allows you to create your own learning experience by completing pre-conference education activities
A Registration Reception including complimentary drinks where you can meet other Conference Attendees and network with Conference Convenors and Conference Presenter/s
Editable electronic note pages that can be downloaded to your device of choice
A Conference satchel that includes a notepad, pen, lanyard (this is important on a cruise ship to attach your room key which becomes your lifeline on a ship) and additional information to support a fantastic Conference experience
The opportunity to meet as a group in various Conference open forums, in one of the many fabulous locations on the ship
A complimentary Farewell Drinks and Canapes Function held on the last night of the Conference to celebrate new friendships and information gained
A Conference Transcript that identifies each session held at the Conference including the session synopsis, session presenter, and CPD allocation
A Certificate of Completion identifying the CPD hours attached to the Conference Program for you to include in your CPD Evidence Portfolio
A dedicated Conference cruise desk open daily to address any questions and provide information as required
A deposit of $100 per person is due at time of booking with the final balance for the conference fee payable by 17th December 2022.
**PLEASE NOTE deposits for accommodation and  the final payment dates for this will vary depending on your final choice of hotel. 
Cancellation Penalties and Disclosure:  If you choose to cancel but the conference still goes ahead as planned, no refund will be given however a credit for your delegate fee will be offered. Any cancellation fees applied by this parties such as accommodation and tour companies are not the responsibility of Education at Sea. CPD Cruises Pty Ltd trading as Education at Sea and the Nurses for Nurses Network will not be responsible for any financial loss due to cancellation from unforeseen circumstances. We strongly recommend you take out travel insurance at time of booking your conference and travel requirements.
Register your interest in this CPD conference today
Please complete the form in this section to express your interest. We will revert within 48 hours with pricing and other details.